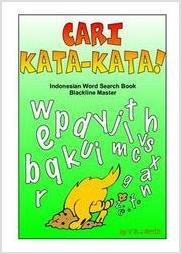 Word Search - Book 1
Topics include -
Days of the week, months of the year, pets, colours, the family, numbers, food, the restaurant, animals, body, weather, how I feel, in the classroom, rooms of the house, nationalities, toys, shapes, outdoors, the city, transport, sport, occupations, drinks and clothes.

PLEASE NOTE: These books are now in a new A4 spine stapled booklet format and come in shrink wrapped packs of 10 books or 30 books (at a discounted rate). Blackline masters are no longer available.